December 6, 2019
This is a late report to all of the Nebraska federation members for the 2019 NSF hosted by the South Dakota Federation. This tournament was held at Big Stone Lake on September 14 & 15, 2019.
In a nutshell this lake produces fish in both numbers and size. Fishing for the Nebraska Federation and qualifying for the 2020 TBF National Finals at Grand Lake is Zane Ridpath and Rick Schwerzler. Zane will be fishing in the boaters division and Rick will be fishing in the co-angler division at the nationals next spring. Both finished in 3rd place in their divisions. Zane finished with 39-02 and Rick had 28-10.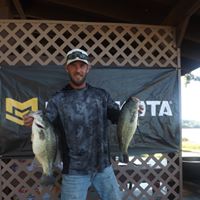 Congratulations to Zane and Rick on their great finishes and good luck at Nationals.