LINCOLN – Grant Pavelka and Tyler Rowland of the North Platte Bass Bosses caught a five-fish limit weighing 9.86 pounds to capture the Nebraska SAF High School Fishing Championship on July 25 at Lewis and Clark Lake near Crofton.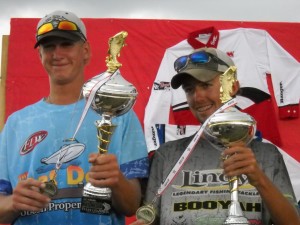 The winning team's largest bass weighed 2.35 pounds. Ben Pavelka was the team's coach and boat operator.
Rees Cudaback and Eli Leggett of the Millard North Mustangs took second place with three fishing weighing 5.84 pounds. Zane Leibhart and Brent Bergman of Lincoln County Bass Bosses caught three fish weighing 4.86 pounds for third place.
The Millard North team of Caleb Hoover and Grant Young caught the tournament's biggest bass at 2.49 pounds.
This fifth annual event was held at Lewis and Clark Lake State Recreation Area's Weigand Marina. Twelve teams competed. Each team could weigh in a maximum of five largemouth bass, with a minimum length limit of 12 inches. Continue reading